October 5, 2020
Nigeria @ 60
The Nigeria Young Farmers Network (NYFN) says the 60th independence anniversary of the country presents another opportunity to reposition the agriculture sector for better performance through the engagement of youths.
The Non-Governmental Organisation in an Independence Day Press Statement in Abuja on Thursday said unlocking the agric sector potentials to the about 60percent youth population will be a game-changer in the nation's economic development.
The statement titled: 'Nigeria at 60: #60years later: Let's Grow up!', signed by Promise Amahah,
Director-General/National Coordinator of NYFN said attaining 60 years remains a big feat but there is a need for retrospection on the bumping journey so far.
The statement read: "Today Nigeria is 60! Happy birthday Nigeria! It's no mean feat.
"Against all odds, Nigeria still got to 60.
"Growing old is mandatory because it is a function of time, but growing up is optional because it is a function of choices.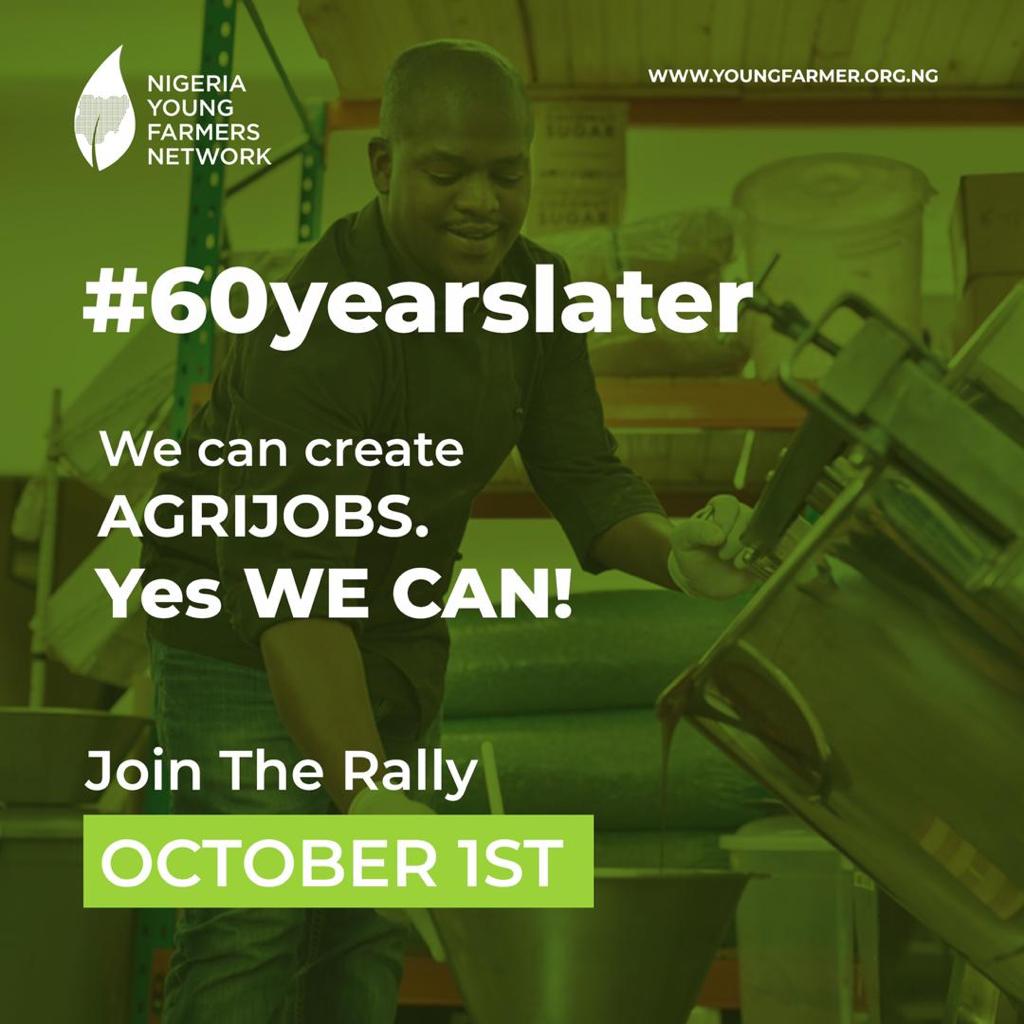 "Just imagine if Nigeria could choose its process and outcome. Nigeria rather trusted Nigerians to make its choices.
"For 60years we as Nigerians had the full mandate and authority to make Nigeria grow up while it grew old.
"Today, in retrospect, we seek to individually and collectively appraise our contributions to the growth and development of a nation that trusted us with everything and gave us everything.
"How do we celebrate Growing old without Growing up?
"After 60years, what if we Grew up rather than just Grow old?
"Today genuinely presents an opportunity for introspection and retrospection."
Amahah said NYFN would leave no stone unturned to ensure that youths in the country leverage on the agric sector value chain to turnaround their fortunes.
"For us at Nigeria Young Farmers Network, it's a call to action, an opportunity for affirmation, that even at 60, we the 60percent make a firm commitment to trigger and fully engage in the process of growth and development especially through agriculture.
"It is our firm promise to our beloved country that today as it marks its 60th birthday, we commit to its growing up and not just growing old.
"We pledge to Nigeria our country, to unlock and unleash its potential through agriculture, to create wealth for all through its resources and to build a prosperous nation where peace and development shall reign.
"Finally beloved Nigerians, let's Grow up as Nigeria Grows old," the statement added.
Source: The Authority